The magnificent Phraya Nakhon Cave is one of the most mystical and mysterious landmarks of Thailand but only a few travellers get a chance to take a picture of it. The reason is simple: this gold and green pavilion is hidden inside a hard to reach cave and only a handful of dedicated visitors will do the effort to visit it. Those who do are rewarded with a stunning vision that looks like it's straight out of an Indiana Jones movie.
Phraya Nakhon Cave is located in the Khao Sam Roi Yot National Park in Prachuap Khiri Khan province, a 45 minutes drive south of Hua Hin. First step to reach the cave is to drive to the small village of Bang Pu located by the beach, and from there decide if you'd rather rent a boat to take you around the cape to Laem Sala beach, or walk a 30 minutes trek above the hill leading to the same Laem Sala beach. Since the boat ride only costs 150 to 200 baht per person and considering that you still will have to climb 430 m of uneven and steep steps we recommend you save your energy and take this short ride to the cave. You can also combine a boat trip to the cave with Monkey Island, ask at the pier.
Interested in this tour? Book it here.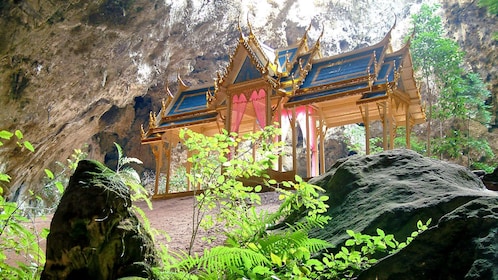 per traveler
Free cancellation
Book
Once you've reached the beach you'll notice a large rustic restaurant you'll be more than happy to use on your way back. You will need to pay a National Park fee of 200 baht and a guide might be assigned to you as apparently you can't go there without one, and don't be surprised if your guide is a tiny 9 year old girl. From the bottom of the stairs it's a serious climb, so unless you are fit and used to stair climbing go slowly and take your time: 430 meters seem to be a piece of cake on flat land but when climbing uneven slippery steps, it proves to be a complete different story.
Close to the top the path progressively eases then starts going down into the first cave. Don't go imagining a dark scary pit; the sunlight cascades generously from the open ceiling of the first cave. This first cave looks beautiful with a natural stone bridge called 'hell bridge', but nothing prepares you to the surreal beauty of the second cave, the one you really came to see.
A short wooden path connects the two caves and finally it is there: since 1890, the Kuha Kharuehat pavilion stands gloriously in a ray of sunlight falling from a circular hole in the cave ceiling. If you are lucky to be the only visitor, the unusual silence adds to the majesty of the site… This pavilion stands on a hill surrounded by trees and vegetation. The pavilion was built at the end of the 19th century for the visit of King Chulalongkorn the Great (Rama V). Later, King Prajadhipok (Rama VII) and the present King of Thailand, King Bhumibol Adulyadej (Rama IX) also visited the cave.
Once you have taken enough photos and your legs start to feel less shaky, it is time to go back. Walking down is less tiring in some way but beware of the slippery stones! Stop at the restaurant for some well needed refreshements or food. Note: We saw a very skinny dog in the cave, so if you read this, bring him a little something from your breakfast. We gave some money to the guides so they can buy some fried rice for the poor dog. Note also that the light is at it's best before 11 am!
Rate This Place:
( votes)