Thonburi does get its fair share of visitors, many of whom shuffle onto the regular ferries that make the short but fun journey across Bangkok's Chao Phraya River to the western side. Whilst the majority of tourists that venture this way come to stay in one of the stunning riverside hotels or to see Thonburi's star-attraction, the iconic Wat Arun Temple, this ever-developing area has so much more to offer. With untouched local villages hugging the narrow water-ways, fascinating museums and quaint local markets, there's plenty of interesting, off-the-beaten-path things to do and see in Thonburi.
Most of the best attractions in Thonburi are quickly becoming more accessible - particularly for those not familiar with Bangkok - with the western expansion of the city's BTS Skytrain route. So it's time to ditch that well-worn tourist map and head west, using our Top 10 Attractions in Thonburi list to guide you along the way.
Interested in this tour? Book it here.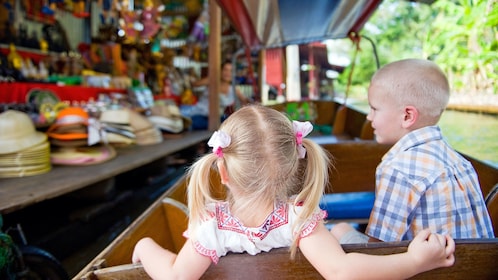 per traveler
Free cancellation
Book
Any sightseeing list in Thonburi can only start at one place: Wat Arun. This ancient temple is one of Bangkok's most iconic temples thanks to its stunning riverside location and unique design with its towering central pagoda. Known locally as Wat Chaeng and sometimes romantically referred to as the 'Temple of Dawn', this breathtaking Buddhist monument is a firm favourite etched into the travel itineraries of the millions of visitors who visit Bangkok every year. Entrance is only 100 baht and you can also climb the steep steps for some great views over the Chao Phraya River.
To get there, hop on a river boat from the opposite side at Tha Thien Pier (about 3 baht to cross). Alternatively, you can book a private tour and explore Wat Arun whilst making your way through Thonburi's famous series of canals. Read More...
Opening Hours: 08:00 -17:30 daily
Location: West bank of Chao Phraya River (opposite Tha Thien Pier)
2
Thonburi Canals (Khlongs)
Bangkok is famous for its series of canals and water-ways which once served as the main form of transport. Today, the 'Khlongs' (as they're known in Thai) still serve commuters and tourists who want to get around town whilst enjoy the city from a whole new perspective.
The best place to explore Bangkok's meandering Khlongs is Thonburi. The whole area has a comprehensive section of waterways, offering visitors the chance to see a more 'local' side of Bangkok. Pass by families eating lunch in their wooden homes, see children playing in the secluded streets alleys and glide past unspoilt markets without a tourist in sight. The best way to experience Bangkok's Khlongs is on a private tour, available below!
For a nice change of pace from Thonburi's numerous temples, museums and local life, there's no better place than the stunning Three Sixty lounge rooftop bar at the Millennium Hilton Hotel. Deriving its name from the panoramic, unobstructed 360 degree views of Bangkok, this is one rooftop bar that really stands out from the rest of the city's competition. Three Sixty Rooftop Bar offers wonderful views of the Chao Phraya River in all its glory, along with the nearby Wat Arun, The Grand Palace, and across to Sukhumvit's towering skyline.
Great views are not the only thing going for this romantic river spot. The food and drinks menu is nothing short of excellent and the venue puts on some great live jazz music in the evenings. Read More...
Location: Millennium Hilton Hotel, 123 Charoennakorn Road, Klongsan
Tel: +66 (2) 442 2000
Cuisine: International and Asian
Set in a beautiful 200-year-old wooden structure on the water's edge, Baan Silapin (meaning 'the artist's house') is home to a quaint art gallery displaying paintings, clothes, masks, puppets and several statues, some of which are for sale. Elsewhere, there's a 600-year-old chedi (temple spire) hidden away in the middle, a restaurant and a small coffee shop. There is also a free traditional Thai puppetry at 14:00 every day except Wednesday.
Baan Silapin is a little out of the way on probably not in your everyday tourist guide – but it's definitely worth the extra effort to get there: from Wongwian Yai BTS Station take a taxi to Wat Kuhasawan, the nearby temple, and walk along the canal from there. Click the link to see the full page and our handy map! Read More...
Opening Hours: Mon/Tues 10:00-18:00; Wed-Fri 09:00-18:00; Sat/Sun 09:00-19:00
Location: Soi Wat Thong Sala Ngarm, Phasi Charoen
Tel: +66 83 034 9858
Despite dominating the western bank of the Chao Phraya River with its giant temple structure, Wat Kalayanamit is often overlooked by tourists, city guides, and even locals. The nearby Wat Arun is much more famous and acts as a magnet, drawing the crowds away from some of the other nearby Thonburi attractions and temples. If you want a more tranquil, less touristy alternative, head to Wat Kalayanamit, a temple particularly famous for its enormous seated golden Buddha inside the main building.
Getting to Wat Kalayanamit in Thonburi is easy: in fact, it even has its own pier. Take a ferry there from the opposite side at Ratchinee Pier or hop on one of the many the Chao Phraya express boats that make their way up and down the river every day (and ask for 'Wat Kalayanamit'.) Read More...
Opening Hours: Daily 06:00-21:00
Location: At Kalayanamit Pier
Bangkok has plenty of weird and wonderful museums, and possibly one of the most morbid – or fascinating, depending on how squeamish you are – is the Forensic Museum at the Siriraj Hospital.
From dead babies in tubes of formaldehyde to fully gown humans cut in half, Siriraj Forensic Museum spares no punches when it comes to the graphic content. However, this is not just for show. All the exhibits and specimens are used (or were once used) by the medical students at this famous hospital in Bangkok. To get there, take the ferry to the Wang Lang Pier, walk inside the hospital and ask any of the staff where the museum is located. Alternatively, tell your taxi to head to Siriraj Hospital. Read More...
Opening Hours: Monday to Saturday - 09:00 to 16:00
Location: Inside Siriraj Hospital Bangkok (Wang Lang Pier)
Klong Lad Mayom is one of the best floating markets close to Bangkok. Located in Thonburi, this river market can be accessed by taking a taxi from Wongwian Yai BTS Station.
Unlike Thailand's most famous floating market, Damnoen Saduak (a little outside Bangkok), Thonburi's version is a lot smaller, has none of the crowds but it's overflowing with traditional Thai charm. Klong Lad Mayom Floating Market really specialises in fresh fruit and vegetables, although you'll find plenty of handicrafts, clothes and artwork for sale too. Even if you're not coming to buy anything, this picturesque spot makes for a perfect photo-op and escape from the traffic of central Bangkok. Read More...
Opening Hours: Saturdays, Sundays and public holidays from 9:30 to 16:30.
Location: 199/4 Rachadapisek Road (Thonburi)
How to get there: Taxi from Wongwian Yai BTS Station is about 150 baht.
Santa Cruz Cathedral in Bangkok is an impressive Catholic church built when Thonburi served as the capital of Thailand. The Portuguese have long been allies with Thailand, and this religious building was originally constructed as a result of these close ties, granted by King Taksin in 1767.
The building you see today is a modern, revamped version of the one built in the 19th century (the original was made from wood and burnt down.) However, the more contemporary Santa Cruz Church still stands proud with its cream-tones and architectural features reminiscent of classic Italian design. Find the impressive cathedral by taking the Chao Phraya Express Boat to Rajinee Pier (N7), and then catch the Pak Khlong ferry across the river. Read More...
Opening Hours: Everyday (Sunday service 06:00-10:00, 18:00-20:00)
Location: Rajinee Pier (N7), then get the Pak Khlong ferry across the river.
The barges that make their way up and down the canals (Khlongs) of Thonburi – as well as the Chao Phraya River – have played an important role in Bangkok for centuries, so much so that there is now a whole museum dedicated to this aquatic form of transportation.
Bangkok's Royal Barges Museum is home to some of the most flamboyantly designed boats you'll ever see, each one carved meticulously form massive slabs of teak, decorated with mythical creatures and painted in bright shades of gold, red and blue. The barges are still fully operational, but will only depart the museum for special occasions such a royal processions along the river. To find the museum - which is more like a big warehouse on water - jump on the Chao Phraya Express Boat to Wang Lang Pier (N10) and walk from there. Read More...
Opening Hours: Daily 09:00 - 17:00
Location: Khlong Bangkok Noi (Thonburi side, near Phra Pin Klao Bridge)
Tel: +66 (0)2 424 0004
Sitting pretty on the Thonburi side of the Chao Phraya River, Wat Prayoon is a modestly sized yet stunningly beautiful temple dating all the way back to the reign of King Rama III in the 19th century. The main focal point is the central white chedi the rises above the surrounding fortress of mini spires. Other highlights around the site include an unusual turtle pond and a spirit house around the back, surrounded by some mysterious-looking trees.
You can find Wat Prayoon next to the Memorial Bridge (Saphan Phut). For a more comprehensive visit to this spot, as well as several other stunning riverside temples in Bangkok, check out our much-loved tour below! Read More...
Opening Hours: Daily
Location: Next to the Memorial Bridge (Saphan Phut), Thonburi side.
Rate This Place:
( votes)