Named as an UNESCO World Heritage Site in 1991, the historic city of Ayutthaya is a constant reminder of its past glory and splendour with temple ruins scattered throughout and along the surrounding rivers. The first temple on the itinerary is Wat Mahathat, located about 45 minutes from Bang Pa-In Summer Palace.
Said to have been built even before the Ayutthaya period (around the 14th century), Wat Mahathat used to be the centre of Buddhism during the prosperous period. Its distinct features include ruined stupas surrounded by laterite walls, rows of headless Buddha images and the Buddha's head carved within overgrown tree roots – one of the most recognisable images of Ayutthaya's temples.
Interested in this tour? Book it here.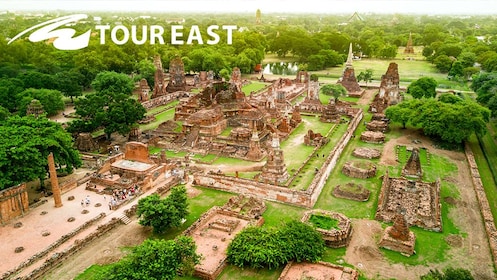 per adult
Free cancellation
Book
A few minutes' drive away is Wat Na Phra Mane. Built during the later Ayutthaya period, Wat Na Phra Mane was one of a few temples that survived the Burmese ransack. The temple's Chapel Hall houses the principal Buddha image seated in the 'subduing Mara' position. Our last stop is at Wat Lokayasutharam with its mysterious origin - none of the historical records or any chronicles have mentioned the period in which the temple was built.
It is assumed, though, that it was built in the Ayutthaya period and probably abandoned after the fall of the city when it was invaded by the Burmese. The temple houses Ayuthaya's largest reclining Buddha image, measuring 37 metres in length and built of bricks and plaster. Ruins of the 'viharn' (meeting and prayer room), 'ubosot' (ordination hall) and 'prang' (spire) still remain in the temple grounds.
It's Lunchtime!
After the temple of the reclining Bhuddha, guests are brought back on the bus with a piece of good news - we're heading to Chong Lom Temple where our buffet lunch cruise awaits. Welcomed by refreshing face towels, famished river farers are in for a sumptuous buffet feast on board.
The food is predominantly Thai, with Western-style salad, sushi, desserts and fresh fruits. The menu consists of popular Thai dishes, the likes of 'pad thai' (stir-fried noodle with dried shrimp, tofu and ground peanut), fried rice, 'tom kha gai' (chicken in galangal soup) and 'gaeng kiew wan gai' (chicken in green curry). A selection of soft drinks, cocktails, wines and beers are also available (cash bar).
After lunch guests can lounge around either on the sun deck, at the front of the cruiser or in air-conditioned cabin lounge. Wherever you choose to be, a series of magnificent landmarks like the Grand Palace, King Rama VIII Bridge and Wat Arun (Temple of Dawn) will unravel before your eyes. Prior to arrival at the River City, a refreshing beverage, tea/coffee and cookies are also served.
An Experience Not to Be Missed
Combining two wonderful journeys in one, River Sun Cruise allows visitors to experience it all - be it roadside or riverside scenery of Bangkok and Ayutthaya. This well thought-out tour takes you to witness Bang Pa-In Summer Palace, where Thai elegance and European opulence converge seamlessly, then trace the history of Ayutthaya through three of its most famous temples. Couples or families, this tour is ideal for all.
Tips: Make sure to keep yourself hydrated, especially during the morning part of the tour as it involves a lot of outdoor walking. Sun glasses and hats are advisable. Stalls selling water, soft drinks, energy drinks, coconut juice, fresh fruits and ice cream can be found at the palace, temples and also on the coach (drinks only).
Rate This Place:
( votes)