Part of Rambuttri runs parallel to Khao San, but despite being located so close by these two streets are different worlds. Rambuttri gives you a taste of how Bangkok used to look before all the skyscrapers arrived. Leafy banyan trees shade the pavements and the vibe sways more towards local than backpacker, despite a number of them now choosing to stay here rather than on the famous street itself.
Rambuttri is Khao San's more attractive, well behaved brother. The entire horse-shoe-shaped road takes around 30 minutes to walk along. This street has a great mix of guesthouses, restaurants, bars and street food stalls. Most of the shops are similar to those you find anywhere in the area selling the usual T-shirts, DVDs and other tourist trinkets.
Interested in this tour? Book it here.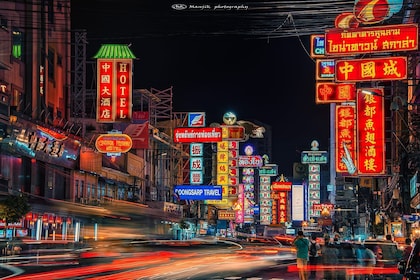 per adult
Free cancellation
Book
The road curves around Wat Chana Songkhram and as you walk along, the golden roof of the temple pops up above a hotel and you can sneak a peek at the monk's quarters down the alleyways. If you follow the road all the way round you will end up at what looks like a dead end. Never fear, you can cut through the second floor of the restaurant at the end, the waiters are very happy to show you the way.
At night colourful paper lanterns light up Rambuttri and the bars come alive – in fact the further you get away from Khao San, the less commercial it feels. A whole section of Rambuttri is now dedicated to street bars once night falls.
Eat and Drink
Bombay Blues
This pretty Indian restaurant is tucked along Soi Rambuttri towards Chao Fah Road, and is a favourite with locals and visitors. Take off your shoes and relax back in their sumptuous cushions, this place is all about deep-red velvet and silk. There is a great choice on the menu with amazing mutton curries, and homemade rotis and naan bread and if you're not hungry sit outside on the terrace enjoying a jug of beer and a shisha pipe. On Saturdays BB plays host to local Indians who are more than happy to teach you some Bollywood dancing steps. BB is a great value place for a romantic date or a low-key supper.
Opening Hours: Daily 18:00 to 01:00
Location: At the far end of Soi Rambuttri, Chao Phra Road
Tel: +66 (0) 2 629 3590
Madame Musur
Great cocktails and yummy Northern Thai food are served at this jungle restaurant. Try the house cocktail named after the place: a twist on a mojito with Thai-style liquor, lie back in your wicker chair surrounded by greenery and listen to the gentle hum of the street. Northern-style sausage and deep-fried dried pork make great beer snacks and the specials board is displayed on a vintage rickshaw outside. Whether you are alone, in a pair or even part of a group this bar and restaurant offers perfect respite from busy Rambuttri.
Opening Hours: Daily from 12:00 till 01:00
Location: Behind Wat Chana Songkhram
Tel: +66 (0)2 2814238
Oh my Cod!
You may as well have walked into a London cafe when you step through the doors of Oh my Cod! With brightly coloured tables, tiled walls and a shiny deep-fat fryer and a menu that covers all possible British craving, at the weekend local expats flock here to get a taste of home: Black Pudding, real mash, mushy peas. Their great hangover special is a full English breakfast with enough coffee to get you up and running again. I am not so sure many people will be missing deep-fried Mars bars, but you never know. The TV inside shows re-runs of Brit classics like Fawlty Towers and Mr Bean.
Opening Hours: 06:30 till 23:00 every day.
Location: In the square behind Rambuttri Village Inn
Tel: +66 (0)2 2826553
Penthai Food
One of the best value places around. Pick from the selection displayed on the shop front, the ingredients are all fresh and authentic. At lunch you can pick from a selection that was cooked in the morning such as spicy prawns, ginger chicken, and sweet and sour dishes. On offer is some appetizing looking seafood – try the red snapper if available. This place gets busy from 18:00 and only has a few tables and chairs on the pavement in front. Be prepared to wait – this family run joint is totally worth it.
Location: Where Rambuttri runs parrallel to Khao San near the Chakrabongse junction
Street Food
All along Rambuttri there is amazing street food. As you walk along the street during the day the stallholders are preparing the dishes, chopping vegetables, barbequing chicken, and wrapping spring rolls. There is a variety of places from carts to sit-down restaurants. Use the international language of pointing and try something other than phad thai.
Street Bars
Grab a beer with ice or a cocktail from one of the pop-up bars and pull up a seat with the locals. The best place to try is along the back of the temple where you can hear some great live music and a friendly and cheerful atmosphere. These places don't tend to get busy until after 23:00 though. You can also find a couple of the amazing decorated car bars on Rambuttri – a VW campervan and a songtaew.
Explore and Experience
Massage
Getting tired? This wouldn't be Bangkok if there wasn't a massage parlour on every corner and here they take the experience outside. Check out one of the many cushioned-covered deck chairs and smiling masseurs and masseuses keen to help with your tired feet and sore shoulders. Not only will you feel like your troubles have melted away, the street-side location is also perfect to watch the world go by – if you can keep your eyes open, that is. These healing hands can be found all along Rambuttri.
Muay Thai
At first glance Sor Vorapin gym looks like a boxing ring at the end of an alley. Those in the know recognise it as one of best training camps in Thailand and its team has over 15 years' experience. You can watch the training, or if you are feeling daring have a go yourself. Leave your preconceptions at the door; this sport may be tough but it doesn't mean that it's just for boys. Beginners are very welcome and there is no need to book. The trainers have limited English but you only really need to understand 'punch' and 'kick' anyway.
Opening Hours: Classes are from 08:30 till 10:30 and 15:00 till 17:00 every day.
Location: On Trok Kasap, an alleyway just off Rambuttri
Tel: + 66 (0)2 2433651
Wat Chana Songkhram
Once you step inside this wat's compound gates you get a taste of a genuine working temple. You can easily spend an hour walking around the grounds, peering into the classrooms, admiring the murals and gazing up at the monks meditating in the windows of their lodgings. Entry is free and the only people who seem to visit are locals, which makes a great change from a lot of the temples in the area. Remember to dress appropriately.
Opening Hours: Every day from 06:00 till 18:00.
The National Gallery
Indulge your arty side on the corner of Rambuttri and Chao Fah. The permanent collection can seem a little dry and dusty but have a look at some of the works painted by the reigning monarch, especially the brilliantly coloured oils he did in the 1960s. There are some great modern statues in the grounds and the temporary exhibitions (housed in a separate gallery in the garden) are usually interesting and give you more of an idea about Thai art.
Opening Hours: Wednesday to Sunday from 09:00 till 16:00.
Location: On the corner of Rambuttri and Chao Fa
Rate This Place:
( votes)