Calypso Cabaret Show Bangkok at Asiatique gives you one of the warmest welcomes you can find in the land of smiles and does so in many different languages. Thailand is well known for ladyboys and Calypso showcases them doing what they love the most: dressing up to the nines and miming to Cher. Some of these 'ladies' have features that would make women jealous but this is an attractive illusion; they were all born men. The performers are keen to entertain and put on a good show and the best way to enjoy it is to don your imaginary feather boa and embrace their world of glitz, glamour and over-the-top drama.
Interested in this tour? Book it here.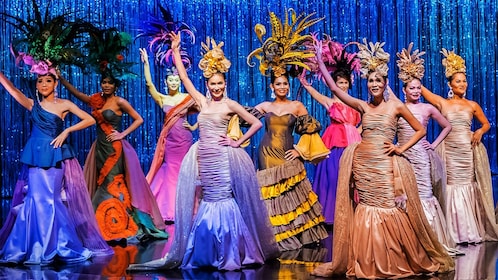 per traveler
Free cancellation
Book
Calypso Cabaret Show Bangkok
Asiatique is the perfect location for Calypso Cabaret Bangkok as this part of town has also gone through a huge transformation. The attempt to recreate a night market on a pier from times gone by seems a little manufactured, but with over 1,500 small boutique shops and faux vintage set-ups for photo opportunities an evening here goes quickly. The easiest and fastest way to get there is via boat. Take the BTS to Saphan Taksin and jump on the free shuttle at the end of the pier. It only takes ten minutes to get there, and the boat runs until 23:30 allowing you time to get back too.
The theatre sits near the town square, with rainbow neon lights beckoning the audience in. The auditorium sits 350, with groups of five around each table, as in any decent cabaret around the world. Everything is scarlet: the chairs, lighting, wallpaper, making it feel a little intense at times. Tickets come with a free drink (soft drinks, gin & tonic or beer) and it's also possible to purchase a dinner and show package.
These routines have been tried and tested many times before and Calypso Cabaret attempts to acknowledge everyone in the audience. You won't only enjoy show tunes, but also Chinese love songs, Korean pop and Japanese geisha dancing. There is something for everyone. Kids will giggle at the ladies dressing up as ostriches and the slapstick comedy acts, men will marvel and I spent most of the show envious that these ladyboys had better legs than me. Everyone will be amazed by the energy of the performers, who dance their way through two shows a night (20:15 and 21:45) with only a 15 minute break in between.
Some of the acts really stand out. Marilyn arrives on stages in her sparkly dress surrounded by men, pouting and advocating the merits of diamonds. Not many people can carry off a platinum wig with such aplomb. She is soon joined by a selection of lookalikes who launch into Madonna's 'Material Girl'. In the 'All that Jazz' section you are given a direct comparison between the ladyboys and their male counterparts as 16 men and women high kick around the stage in bikinis and bowler hats. The solo mime (I forgot on occasion that they weren't actually singing) of a famous Japanese song by Misora Hibari 'Like the flow of the river' was haunting and powerful.
Calypso Cabaret is not cutting-edge, but what over 20 years in the business has produced is a sleek, entertaining and slightly cheesy performance that can be enjoyed by people of all ages and nationalities. This live ladyboy dance show in Bangkok is a great way to end a night at one of the city's premier shopping destinations.
Calypso Cabaret at Asiatique
Opening Hours: Twice daily at 20:15 and 21:45
Address: 2194 Charoenkrung 72-74 Road, Bangkok
Rate This Place:
( votes)