Located along a canal on the Thonburi side of Bangkok, the Artist's House (Baan Silapin) is a difficult attraction to find and just finding it has a little taste of success. A couple centuries ago, this kind of old Thai wooden house was very typical along the klongs but today these are becoming rare, inexorably replaced by concrete buildings. Not only has this one been beautifully restored, it also has some unusual features that always catch the eyes of tourists passing by on speeding boats: Several human-sized statues painted in white, red or black sitting by the water, endlessly staring at life passing by, like the ghosts of the original occupants who probably used to do the same, when smartphones didn't yet distract us from the real world around us.
Interested in this tour? Book it here.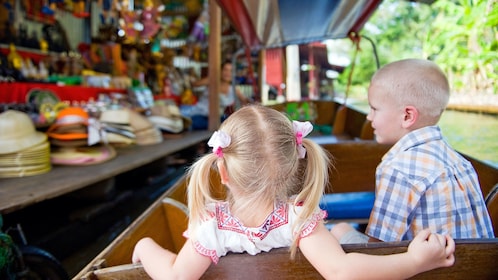 per traveler
Free cancellation
Book
If you take a klong tour aboard one of these yellow longtail boats, chances are you passed by the Artist's House, maybe even shot a quick photo wondering what this strange looking place was, hoping you could stop by to explore it further. But boats don't stop and only the brave will find the way to the house through a maze of back lanes.
Owned by Khun Chumpol Akkapantanon, the Artist's House is more than two hundred years old, dating all the way back to when the capital of Thailand was on this side of the river. The house and the neighbourhood was run down when it was bought before being restored to its present glory. Since then, the entire area has become a popular attraction and the boardwalk leading to the house now hosts several shops and tiny restaurants that lead to a temple. It's a great escape from the crazy traffic of Thonburi and yet, it is in the middle of Bangkok.
Not only beautiful in a rustic way, it also has a tall white chedi dating all the way back to the Ayutthaya period standing in the backyard. How many houses have their own 600 year old chedi? The place has a modest coffee shop but the main reason for people to come all this way despite the difficulty is the rare traditional Thai puppet show, performed with delicately crafted puppets that used to be part of the now defunct Joe Louis puppet theatre at the old Suan Luan night bazaar. These puppet shows are now really hard to find but one of them is still available at the Askra Theatre at the Pullman Hotel and soon at the giant Asiatique shopping village.
The traditional Thai puppet show is performed at 14:00 every day except on Wednesday. On a small wooden stage in front of the white stupa, intricately-made puppets are manipulated by several artists all dressed in black. It's fascinating how the story captures your imagination; your brain erases entirely the performers in black and soon the puppets take on a life of their own. The four rows of chairs are always full and people sit casually on the floor around the stage, just like it used to be long time ago. Each day a different story based on Thai folklore is narrated, involving mythological creatures and deities, often including Hanuman the monkey god. A calendar is available but if you really want to see the show, it is recommended to call in advance as the theatre sometimes performs outside for special events.
The Artist's House is open every day, usually from 09:00 to 18:00. It houses a cafe and a shop selling fun stationary, postcards in addition to an art gallery displaying paintings, masks and, of course, puppets. Occasionally a boat selling food stops by and you can order your own lunch and use the house tables to enjoy your meal. It has the feel of village life around here: teenagers hang by the canal, feeding swarms of hungry fish with colorful food pellets sold in shops around while old people sit by the river and drink beer... it's a unique chance to dive back into a time that no longer exists.
To get there you probably have to get a motorbike taxi to drop you from Wongwian Yai BTS station to Wat Kuhasawan, the nearby temple, and from there walk along the canal and probably ask around... or use your mobile map. It's hard to find but it's really worth it!
Artist's House (Baan Silapin)
Opening Hours: Monday and Tuesday from 10am to 6 pm, Wednesday to Friday from 9am to 6pm and Saturday Sunday from 9am to 7 pm
Location: Soi Wat Thong Sala Ngarm, Phasi Charoen
Tel: +66 83 034 9858
How to get there: Best way would be by motorbike, but you can go to Wongwian Yai BTS station then take a taxi from there. Try to mention Baam Silapan or the name of the nearby temple 'Wat Kuhasawan'
Rate This Place:
( votes)