Khao San Road and the surrounding area (Soi Rumbuttri and Pra Atit Road) contains a rich and varied nightlife scene for anyone who dares to scratch beneath the surface and go deeper than the mainstream 'plastic chairs, cheap Beer Chang, top 40 hits' combination of Khao San's main drag. When you tire of the blaring stereos competing to outdo each other and you've played one too many games of pool at Guilliver's, follow our advice to find unique bars with each with their own style. There are an unbelievable range of places catering to all tastes but these are a few of our favourites to get you started and show you there are more sides to this opinion dividing location than it seems.
Interested in this tour? Book it here.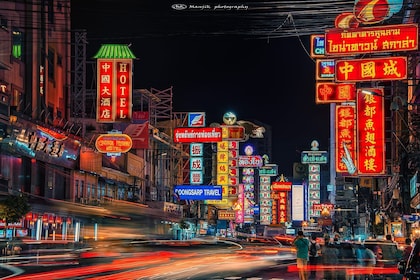 per adult
Free cancellation
Book
Perhaps the most fun-loving bar in the area, The Brick Bar has live bands playing happy and up tempo ska-style pop music that quite literally gets people dancing on the tables and singing along. There are a host of regular bands playing here, but the house band – with a larger than life front singer – usually blows them all away. The drinks are a little on the pricier side of most others on Khao San, but it's worth it. Entry is free on weekdays but it costs 300 baht to go in on weekends and it is usually rammed with a mostly Thai clientele, even though it is on the main drag, behind McDonald's and The Buddy Lodge Hotel. Read More...
Opening Hours: 19:00 – 01.30
Address: 265 Khaosan Road (in the same building as Buddy Lodge and McDonald's)
Tel: +66 (0) 2629 4477
Molly 31st is a bar and club towards the top end of Soi Rumbuttri, running parallel to Khao San Road. It is set in a beautiful white washed house with twinkly fairy lights outside that offers a great place for chilling and watching the world go by. Still, we usually arrive a little later, when most people move inside. There are two floors; a band plays standard covers to a mixed crowd of Thais and tourists, while upstairs there's a DJ playing anything that gets you tapping your feet and shaking your body. To get here, cut through Soi Suzie that connects Khao San Road to Rumburttri, Molly 31st is a few bars to the right.
Opening Hours: 18:00 – 02:00
Address: 108 Soi Rambuttri
Tel: +66 (0) 89 817 8582
This bar is set in an old house with Victorian-era dimensions. It has been slightly renovated but keeps a retro vibe that is in vogue in Bangkok. Tourists are outnumbered here, mostly by university students, and sometimes that is just what you want. This is a completely different experience than you would get sitting outside on Khao San's main strip, and is also far more chilled out. Tak Sura great place to have dinner and a few casual beers although finding it is a little tricky. From Tanao Road at the far end of Khao San, cross the Ratchadamnoen Road (the main road leading to the Grand Palace) and the bar is on the right after 150 metres. It is down a small lane, just look for the sign in English.
Opening Hours: 18:00 – 01:00
Address: 156/1 Tanao Road (entrance is 5 metres back from the road, down an alley)
Tel: +66 (0) 262 20708
This diminutive live blues joint takes up one block of a shop house and packs people in seven nights a week. The musicians start playing sometime around 20:00 so you should aim to get here around then if you want a seat. This place is so narrow you'll likely need to squeeze past instruments just to get to the toilet, but it creates a friendly vibe which everyone appreciates and beers are among the cheapest you will find in a live music joint throughout the city. Adhere the 13th is located an easy five minute walk from the bottom of Khao San Road. Starting at the Police Station, cross the road and walk past Wat Chai Chanasongkran on your left. Keep walking straight on, cross the intersection and over the small canal, Adhere the 13th is in a narrow shop house the other side of the canal.
Opening Hours: 19:00 – 24:00
Address: 13 Samsen Road
Tel: +66 (0) 897 694 613
Rock tunes, tequila shots, and top-quality Mexican food isn't what we associate with Khao San Road, but Day of the Dead Bar is rewriting what a Khao San drinking hole is all about. This five-storey shophouse has a donwstairs bar, some cosy seats on the second floor overlooking the main room and on the third floor there is a rock'n'roll karaoke room. Thanks to a partnership with Sunrise Tacos a menu of Mexican favourites are available all day too.
With most other bars on Khao San sticking to EDM dance tracks or acoustic cover bands, Day of the Dead's loud and proud rock sensibilities are pulling in people from all over Bangkok, not just the backpacker crowd. Everyone seems to agree it's the most exciting and refreshing bar to open on Khao San Road in years. Read More...
Opening Hours: 12:00-very late (past 03:00)
Location: 56 Khao San Road
Tel: +66 (0)2 282 2457
Rate This Place:
( votes)