Impress everyone around the dinner table with our list of facts about Bangkok and Thailand. Within our light-hearted list of 10 facts and information you will find titbits which will add a little cultural relevance to things you see in the capital and hopefully give you a bit of a laugh.
Some of them are funny, some are amazing, most are useless; see how many facts you already knew about The City of Angels:
Interested in this tour? Book it here.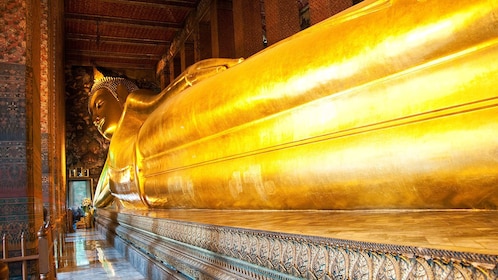 per traveler
Free cancellation
Book
1
The Longest City Name in the World
Although the capital city of Thailand is known to the world as Bangkok, local people refer to it as Krung Thep but this is just a shortened version of the actual name which consists of 169 characters and makes for a challenging tongue twister after a few drinks. The full name is:
Krungthepmahanakhon Amonrattanakosin Mahinthara Yutthaya Mahadilok Phop Noppharat Ratchathani Burirom Udom Ratchaniwet Mahasathan Amonphiman Awatansathit Sakkathattiya Witsanukamprasit.
This roughly translates to:
City of angels, great city of immortals, magnificent city of the nine gems, seat of the king, city of royal palaces, home of gods incarnate, erected by Visvakarman at Indra's behest.
2
All of the temples pictured on Thai baht coins are in Bangkok
A fun game you can play when visiting temples in Bangkok is trying to find the locations of all those pictured on Thai baht coins. All the temples stamped on the back of Thai coins are in Bangkok and it's possible to see them all in one day. We know because we've done it!
1 baht coin – Wat Phra Kaew (Temple of the Emerald Buddha, inside The Grand Palace)
2 baht coin – Wat Saket (Temple on the Mount)
5 baht coin – Wat Benjamabophit (The Marble Temple)
10 baht coin – Wat Arun (Temple of Dawn)
3
World's Hottest City (by mean average)
According to the World Meteorological Organisation, Bangkok is the world's hottest city. The average air temperature throughout the year is 28 degrees centigrade, but this jumps to a sticky 34 degrees between the months of March and May. That would explain the sweat stains!
The best time to visit Bangkok is between November and February when the city enjoys cooler temperatures and blue skies. The only problem is everyone else has the same idea.
4
The King's Anthem is Played before movies and cultural performances
We have already told you about the twice daily recital of the Thai National Anthem that happens at 08:00 and 18:00 in public places, but we didn't inform you that before a movie, play or cultural performance the King's Anthem is played and everyone must stand out of respect. Not to do so is very bad manners but it is also illegal – more information regarding laws to come.
Every country has some rather strange, outdated laws that have failed to keep up with modernity and now just seem weird. Thailand is no different and the list of antiquated ways to stray foul of the law in Bangkok includes:
It is illegal to leave the house without wearing underwear
It is illegal to drive a motorised vehicle bare-chested
It is illegal to use a durian fruit as a weapon and a fine will be levied determined by how many thorns strike the victim
For a more useful (but less amusing) law:
It is illegal to step on any Thai currency – either coins or notes – as they carry an image of the King
When nature calls and you make a dash to complete your mission, don't be surprised if you are faced with not two toilet doors, but three.
Along with the usual male and female washrooms found everywhere, Thailand is now one of the first countries in the world to introduce a third gender option for transgender men, mostly commonly known as ladyboys. This option is rare and it is unlikely you will encounter such a toilet situation, but they are out there and you never know where one might crop up.
Thailand – and Bangkok in particular – is a very liberal place in terms of sexuality and tolerance towards gender identity.
7
'Sawadee' became the common form of greeting in the 1930s
'Sawadee Krhap/Kaa' (translated as 'Hello' or 'Greetings') is a ubiquitous phrase used throughout Thailand to say hello. It is something you will hear hundreds of times a day and is the first word most tourists learn – usually before they have left the airport – so it comes as a surprise to learn that the word was only introduced into the Thai language in the 1930s by a professor at Chulalongkorn University, Thailand's most prestigious seat of higher learning.
Prior to 1930, the most common way to say hello in Thailand was to say 'Gin kaow leaow ruu yang?' which translates to 'Have you eaten yet?'
8
Red Bull energy drink originated in Thailand
The world-famous energy drink Red Bull can be found throughout the world and was the pioneer of what is now a multibillion dollar power drink industry. But few people know that this caffeine-and-sugar concoction has been a popular brand in Thailand since 1976 when it was created by a Chaleo Yoovidhya, a man with little formal education and who had moved to Bangkok from central Thailand to seek his fortune. At the time of his death in 2012, he was reportedly the third richest man in Thailand with an estimated wealth of $US 5 billion.
It must be said that he received quite a bit of help from Austrian businessman Dietrich Mateschitz, who regularly travelled to Bangkok for business in the 1980s and would drink Red Bull as a cure for jetlag. They became partners and modified the taste for the western market. The original, syrupy mixture is a fair bit different from the carbonated version enjoyed around the world, and in an ironic twist, modified western Red Bull is now sold alongside the original version in some shops and bars. Try them both and decide which one you like more.
9
World's biggest Chinatown (with the the world's largest gold Buddha)
Bangkok's Chinatown is commonly referred to as the largest in the world and anyone who has spent time navigating the endless alleyways of this sprawling area is unlikely to disagree. Known locally a Yaowarat, Chinatown in Bangkok is home to over a million ethnic Chinese usually of second or third generation. In the daytime, shops and stalls sell products at some of the cheapest prices in the city and at night the area is transformed into a street food heaven, with vendors stretching off into the distance, or at least until obscured by the traffic. The area around Yaowarat is one of the most vibrant and interesting for inquisitive tourists and a day of exploring is definitely advised.
On top of this, Chinatown also boasts the largest solid gold Buddha in the world. Housed inside Wat Traimit, the five-and-a-half ton Buddha was hidden inside plaster for hundreds of years and was only discovered when it was accidentally dropped while moving it.
10
Thailand is the only Southeast Asian country never to have been colonised by a European Power
Thai people are noticeably proud of their culture and heritage, and if you happen to get onto the subject of history while in conversation with Thai people, mention this little gem of a fact for instant nods and big smiles.
During the so called 'Age of Empires' in the 19th Century, when European nations went rampaging across the globe on a path of domination, Thailand's strategic location acted as a buffer between France's Indochina and the Burmese and Indian colonies of Britain to ensure Thailand was never subjected to a full-on military invasion. The independence of Thailand was also down to the excellent governance by the much beloved King Rama V, who ceded small amounts of land to ensure peace with the European powers. King Rama V is also revered as it was under his authority that slavery was abolished in Thailand, and his portrait can be seen in many shops, restaurants and homes.
Rate This Place:
( votes)