temples, parks, and shopping malls. One of the things we love most about Bangkok is the fact that travelling around the city is such great value. Bus fares often start at less than 10 baht, while the BTS Skytrain is one of the most affordable and convenient ways to get around the city.
You can enjoy a wide range of traditional performances – while most places charge a rather hefty price, a few hidden spots organise Thai puppetry and dances for free. Compiled for budget travellers in Bangkok, discover some of the best things to do that cost next to nothing.
Interested in this tour? Book it here.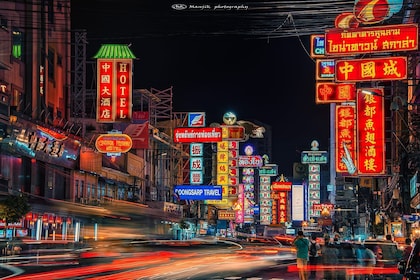 per adult
Free cancellation
Book
The art of Thai puppetry is a tradition that is slowly dying out, but there are a few places in Bangkok where you can still enjoy this unique show. Every day (except Wednesdays) at 2pm, the Artist's House in Thonburi hosts a team manoeuvring the delicate puppets.
It's a good idea to call in advance as the theatre sometimes performs in other parts of the city, usually during special events. The Artist's House is also an unusual place to explore, with a 600-year-old stupa in the back garden and unusual life-size statues on the veranda. Read More...
Opening Hours: Daily from 10am to 6pm
Location: Soi 28, Wat Kuhasawan, Thonburi, Bangkok Thailand
Tel: +66 (0)2 868 5279
Lumpini Park is a large green space in central Bangkok, appeals to anyone looking to take a break from the city. You'll see plenty of people enjoying light workouts, aerobics, and leisure activities throughout the day. There are plenty of sheltered niches where you could read, meditate or have a picnic. During the cool season (November to March), the park hosts free classical and jazz concerts by the Bangkok Symphony Orchestra on Sundays. Read More...
Opening Hours: Daily from 4.30am to 9pm
Location: Rama IV Rd, Lumphini, Pathumwan, Bangkok 10330, Thailand
Wat Mahathat gives you a chance to experience the practices of meditation for free. Every day, the monks who live at the temple organise walk-in classes on seated and walking meditation. It's a very peaceful experience, with each session lasting for a few hours. While most classes are conducted in Thai, there are English-speaking monks to assist you. Read More...
Opening Hours: Daily from 9am to 5pm
Location: 3 Maha Rat Rd, Phra Borom Maha Ratchawang, Phra Nakhon, Bangkok 10200, Thailand
Tel: +66 (0)2 222 6011
At Terminal 21 Mall, each floor is themed around a city, such as Tokyo, San Francisco, Paris and London. Naturally, there are lots of great photo opportunities, either in front of a large waving cat, next to a statue of a British policeman or on the edge of an Italian fountain. The bathrooms also have unique themes, so be sure to check them out as well. Read More...
Opening Hours: Daily from 10am to 10pm
Location: Sukhumvit Road, Khlong Toei, Watthana, Bangkok 10110, Thailand
Tel: +66 (0)2 108 0888
Rod Fai Market is an open-air train market on the eastern outskirts of Bangkok. Offering vintage goods and unusual second-hand objects, it's an excellent place to spend an evening. Some of the shops have impressive displays of old goods, like retro Superman and Batman statues, dentist chairs and fairground rides. Old vintage cars dotting Rod Fai Market make for nice photo backdrops if you're not planning to buy anything during your visit. Read More...
Opening Hours: Thursday–Sunday from 5pm to 1am (closed Monday–Wednesday)
Location: 51 Srinagarindra Road, Nong Bon, Prawet, Bangkok 10250, Thailand
Tel: +66 (0)8 1827 5885
Finding these scary creatures is a bit of a treasure hunt, but you'll get to experience the bustling streets of Chinatown on the way. It's a bit of a surprise to find giant crocodiles resting in a small pond at Wat Chakrawatrachawat Woramahawihan. This aged temple is within a 5-minute walk of the famous Yaowarat Road. As you pass the main entrance, turn left and you'll see the pond. There's also a stuffed crocodile inside a dusty display case nearby. Read More...
Opening Hours: Daily from 8am to 6pm
Location: Chakkrawat, Samphanthawong, Bangkok 10100, Thailand
Pak Klong Talad is a 24-hour market with so many flowers that you feel that you've stepped far away from the streets of Bangkok. Located in the Old Town, the best time to experience the action is around 4am when trucks and carts arrive from other parts of Thailand to unload piles of fresh flowers. If you just want to walk around the flower market, visit a little later in the morning to see hundreds of vendors creating wreaths and floral displays. Read More...
Opening Hours: 24/7
Location: Pak Klong Talad, Memorial Bridge to Khlong Lord, Chak Phet Rd., Bangkok, Thailand
Erawan Shrine in Bangkok attracts hundreds of people looking to pay their respects and make offerings throughout the day. The gold statue of Than Tao Mahaprom is surrounded by hundreds of yellow flowers and incense sticks. One of the highlights at this shrine, a troupe of Thai classical dancers performs graceful moves as thanks to the gods several times a day. You can enjoy the show for free, though try to stand at the side to make way for devotees praying to the central sculpture. Read More...
Opening Hours: Daily from 6am to 11pm
Location: Ratchadamri Rd, Lumphini, Pathumwan, Bangkok 10330, Thailand
The old Thonburi Railway Station is a bit of a hidden secret in Bangkok. Not far behind Siriraj Hospital, the old station quite modest in size, but there's a huge warehouse sheltering steam engines. Some of these elusive machines are used for special events – most are kept in mint condition and if you ask nicely, you can even step inside and admire the intricate mechanisms. Read More...
Location: Siriraj, Bangkok Noi, Bangkok 10700, Thailand
Thailand is very proud of its Muay Thai boxing heritage, and it's not surprising to see people crowded around the TV and radio listening to the latest matches. A seat to watch Muay Thai at Lumpini Stadium usually starts from 1,000 baht, but if you want to get a taste of the action for free, MBK Center is a must-visit.
MBK Fight Night takes place outside the shopping mall every last Wednesday of the month. Many of its Muay Thai fighters are juniors, though there are occasional matches with fighters from around the world to fight. Read More...
Opening Hours: Daily from 10am to 10pm
Location: MBK Center, 444 Phayathai Road, Wang Mai, Pathum Wan, Bangkok 10330, Thailand
Tel: +66 (0)84 001 9876
Rate This Place:
( votes)