When coming up with a list of free things to do in Bangkok, we wanted to pick a top ten that included more unusual and rarely thought of free activities and sights, avoiding too many temples and shopping malls. Our list of 10 fun free things to do include things that we enjoy doing in the city and the activities we would recommend to anyone coming to Bangkok on a budget.
One of the things we love most about Bangkok is the fact that travelling around the city is such great value. Buses start at less than 10 baht, and even half an hour in the taxi only costs around 200 baht, so there will be minimal costs incurred, but once you get there you can enjoy the sights and sounds for free as our ten fun things to do cost nothing!
Interested in this tour? Book it here.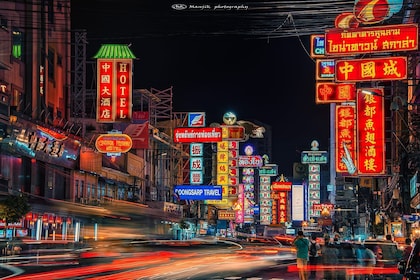 per adult
Free cancellation
Book
The art of Thai puppetry is a tradition that is slowly dying out, and there are only a few places in Bangkok where you can still enjoy watching the team manoeuvring the delicate puppets. But every day (except Wednesday) at 14:00 you can head down to the Artist's House on the west side of the river and enjoy a performance put together by part of the crew that used to work for the Jean Louis theatre. The Artist's House is also an unusual place to explore, with a 600 years old stupa in the back garden and some unusual life-size statues on the veranda of the house overlooking the river. The building has been beautifully renovated and there is small café there too. Read More...
Opening Hours: Monday and Tuesday from 10am to 6 pm, Wednesday to Friday from 9am to 6pm and Saturday Sunday from 9am to 7 pm
Location: Soi Wat Thong Sala Ngarm, Phasi Charoen
Tel: +66 83 034 9858
How to get there: Best way would be by motorbike, but you can go to Wongwian Yai BTS station then take a taxi from there. Try to mention Baam Silapan or the name of the nearby temple 'Wat Kuhasawan'
Okay, this may be a little obvious, but it had to be included. Finding such a large green space in the centre of the concrete jungle that is Bangkok is surprising, and there is no better place to take a break from the city than under one of the leafy trees by the lake in Lumpini Park. If you are feeling a little more active then there is a 2.5 km running track, basket ball hoops and outdoor gym equipment. You could even join the group of people enjoying the free aerobics classes in the early evening, grooving to the latest hits (tips for the instructors are welcomed). During the cool season from November to March there are even some free classical and jazz concerts on Sundays performed by the Bangkok Symphony Orchestra. Read More...
Opening Hours: 04:30 - 21:00
Location: Rama IV Road, Pathumwan
MRT: Silom, Lumphini
BTS: Saladaeng
How to get there: MRT Subway Silom or Lumphini stations will drop you right opposite the park.
Not another free temple I hear you cry! Well you can visit Wat Mahathat for free of course, but the best thing here, in our opinion, is the chance to get an insight into the practices of meditation. Every day the monks who live at the temple organise walk-in classes to teach visitors about both seated and walking meditation. It is really peaceful, and getting a taste of the life that the monks and visitors live day in day out, but with sessions only lasting a few hours it is a lot less intense. The free walk-in classes happen three times a day from 7:00 until 10:00 from 13:00 till 16:00 and finally in the evening from 18:00 to 20:00. Read More...
Opening Hours: 07:00 until 20:00
Location: Phra That Road (near Sanam Luang Park, between the Grand Palace and the National Museum), Old City (Rattanakosin) 
Shopping isn't exactly free, is it? But Bangkok is well known for its shopping malls, and as each new one opens they try and come up with a new idea and something fun to pull the crowds in. Our favourite shopping mall to visit for free is definitely Terminal 21. Each floor is themed around a city: Tokyo, San Fransicso, Paris and London, and there are lots of great photo opportunities, either in front of the large waving cat, next to the British policeman or on the edge of the Italian fountain. They have even themed the bathrooms, so be sure to check out those too! Also worth a mention are Asiatique, a night bazaar market near the river with a free shuttle from Sapphan Taksin and Mansion 7, a spooky mall with a haunted house theme. Read More...
Opening Hours: 10:00-22:00
Location: Sukhumvit Road (between Soi 19 and 21)
MRT: Sukhumvit
BTS: Asok (direct access via Skywalk)
This open-air market is located on the eastern outskirts of Bangkok and is a treasure trove of vintage goods and unusual second hand objects. But even if you have no desire to buy, it is still a great place to spend an evening. Some of the shops have impressive displays of old goods, like retro superman and batman statues, dentist chairs and even the elephant shaped car from a fairground ride. You have to wonder where they get this stuff and if anyone wants to buy it. Dotted around the site are some old vintage cars as well. Be sure to look around to spot other vintage items, some locals even told us there is an old train nearby but we have yet to find it. It's also a great place to grab a cheap bite to eat and sink a few beers. Read More...
Opening Hours: 17:00 - midnight Friday to Sunday
Location: Srinakarin Road (behind Seacon Square Shopping Mall)
Finding these scary creatures is a bit of a treasure hunt, but you will get to experience the bustling streets of Chinatown on the way. It's a bit of a surprise to find these three giant crocodiles in a small pond in the grounds of Wat Chakrawatrachawat Woramahawihan. This aged temple is on the soi parallel to the famous Yaowarat Road and is recognisable by the two white prangs (towers) that rise above the complex. You'll need to do some hunting once you get inside, but turn left as you go through the main entrance and you will see the three beasts and an old friend who is now stuffed, perhaps, as the rumour suggests, as a punishment for eating young novices. Read More...
Location: Wat Chakrawatrachawat Woramahawihan, Chinatown
Located in the old city, this 24 hour market has so many flowers that you feel that you've stepped far away from the streets of Bangkok. This is the place that all flower stalls and temple stands come to pick up their bouquets of 50 to 100 flowers. The best time to come and experience the action is around 04:00 when the trucks and carts arrive from other parts of Thailand and unload piles and piles of flowers in a whirlwind of noise and colour. If you just want to walk around without the chaos then we recommend that you come during the day when you can see vendors creating wreaths and floral displays. Read More...
Opening Hours: 24 hours, but more popular at night
Location: Chak Phet Road, the Memorial Bridge or Saphan Phut Chao Phraya pier
How to get there: Taxi or Tuk Tuk
In the middle of Bangkok's shopping district of Siam you will find the Erawan Shrine. Squished into the corner of Erawan Shopping Mall, it is one of the most popular places in the city for people to come and pay their respects and make offerings. The little gold statue is surrounded by hundreds of yellow blooms and a haze of incense, you can really get up close and personal, mingle with the crowds. One of the highlights here are definitely the performances. Several times a day, the troupe of Thai classical dancers performs graceful moves as thanks to the gods, and if you are lucky, you might even see the lively Chinese Lion Dance. Read More...
Opening Hours: 06:00-24:00
Location: In front of Grand Hyatt Erawan Hotel, corner of Ploenchit and Ratchadamri Road
BTS: Chidlom
The old Thonburi Railway Station is a bit of a hidden secret… you could drive over the bridge above one hundred times without knowing that such treasures are hiding just below. Located not far behind Siriraj Hospital and east of the new Thonburi Station, the old station is of modest size but in the back is a huge warehouse sheltering four or five superb steam engines and a couple of rusted ones, depending on the days. Some of these elusive machines are still in use for special events but surprisingly there is no official train museum to exhibit them. At Thonburi Railway Station most machines are kept in mint condition and if you ask nicely you may even step inside and admire the complexity of the metal commands. There are no official signs and no official entrance… just walk casually in and if someone asks you, just say "Tai Loop Dai Mai Krap" (can I take a photo please)? To which they will reply in a long sentence you won't understand but they will appreciate your effort. Read More...
Location: Behind Siriraj Hospital and east of the new Thonburi Station
Thailand is understandably very proud of its Thai boxing heritage, and it is not surprising to see people crowded around the television and radio listening to the latest bouts. A seat to watch Muay Thai at Lumpini Stadium costs around 1,000 baht, but if you want to get a taste of the action for free, we recommend heading to MBK Shopping Centre. It may sound a strange venue for boxing, but every Wednesday from 18:00 MBK Fight Night takes place outside the mall and you can watch them for free. A lot of the fighters are junior, so this is a great way for them to experience the roar of the crowds (and the BTS... and the traffic). The fighters come from all around the world to fight at MBK Fight Night and the atmosphere is buzzing. Read More...
Opening Hours: 18:00 – 21:00
Location: Pathumwan Intersection, diagonally opposite Siam Discovery Centre
BTS: National Stadium
Tel: +66 (0)2 620 9000
Rate This Place:
( votes)