Just outside Bangkok, about an hour and a half by train and a little less by bus, in the flat river plain where the Lopburi, Chao Phraya and Pa Sak Rivers converge, lies Ayutthaya, the Kingdom's ancient former capital (1350 - 1767). This island city, that once mesmerized foreign diplomats and traders with its splendour, and many concluded was the most beautiful place on earth, is accessible from Bangkok by various means. The most elegant by far, however, is by waterways onboard a teak barge. Indeed, it was the Ayutthaya royals sailing the waterways to the island city that gave the Chao Praya its name, River of Kings.
Founded by King Ramathibodi in 1350, Ayutthaya become one of the world's most dazzling cities, a centre of high culture, international exchange and rich architecture. Once home to three palaces and 400 temple monasteries, it remained the Siamese capital and city of splendour for over 400 years until the Burmese invasion of 1767, which almost completely destroyed its art treasures, palaces, temples and libraries. Surrounded by political intrigues, betrayals, royal abductions, sackings, dethronements, fires and flood, the Ayutthaya Kingdom is now seen as an era in its own right. Significant ruins of the city's former glory remain, and Phra Nakhon Si Ayutthaya Historical Park was declared a World Heritage Site by UNESCO in 1981.
Interested in this tour? Book it here.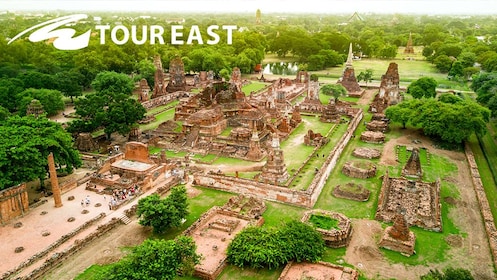 per adult
Free cancellation
Book
The Creation Fable
The Legend of Ayutthaya, tells of Prince U Thong - who later assumed the royal name Ramathibodi (1350 - 69) - discovering an exquisite conch shell buried in the earth. In a moment of revelation he elected that very ground as the site for his future capital. First he placed the shell upon a pedestal tray and had a pavilion constructed around it. He gave his capital the name Ayutthaya - after Ayodhya in Northern India - the city of hero Rama of Hindu epic Ramayana fame. What remains of the city once hailed as the Orient's most splendid, are fragments. To walk among them is to enter a magical space, where history, art and culture seem artifacts of an epic dream. Ayutthaya today is most deserving of its mythical etymology.
Ruins of temples, shrines, religious effigies, sacred sites, stupas, obelisks, monuments and historical landmarks are traces of the Ayutthaya legacy. Architecturally, styles are a visually enticing amalgam of Khmer (ancient Cambodian), early Sukothai with certain stylistic features now referred to as exemplary of the Ayutthuya period. Elements from these various eras, seen side by side or actually within various levels, layers and wings of a site show the passage of time and penetration of various influences throughout the reign of 33 kings. To Thai people Ayutthaya has become a place to honour ancestors as well as a receptacle for folk wisdom lost and recollected over the ages, a source of nostalgic pride.
Once upon a Time...
Thai royals have a history of openness toward outside visitors. In the 16th Century, Siam reached its peak in terms of sovereignty, military might, wealth, culture and international trade. Diplomats and traders from as far as Portugal, France, England and Japan were captivated by the beauty of the island city in the 17th Century. Under King Narai (1657 - 1688) foreigners were cordially welcomed to stay in Ayutthaya. Consequently diverse flavours can be found in and around the city - from old Japanese settlements to a Portuguese village and palaces and buildings in turn-of-the century Swiss, Belgian and Russian styles - all bearing a peculiar Thai slant.
This is a truly unique place, and is of value to anyone who has a love and wonder of the arts, culture, history and archeology. Of gems to discover, there are too many to mention. Ancient belief foretells that making a pilgrimage to nine sacred sites constitutes a merit-making act of saintly proportions.
Ayutthaya Highlights
Constructed by King Ramathibodi II (the tenth king of Ayutthaya) in 1499, Wat Na Phra Meru grants a double-edged blessing. The statue of the Golden Buddha and an unusual Buddha of Green Stone are placed side by side. This original wat is the only temple unharmed by the Burmese raids and, remarkably, in the same condition as when it was used as headquarters by the Burmese. It is the site from which canons were fired at the Royal Palace area.
Wat Mahatat is over 600 years old, and was once a well kept royal monastery. It was burned down in 1767 and since lay in ruins. In 1911, after the collapse of the main prang, looters attacked it. Only much later in 1956 did the Fine Arts Department excavate the area and discover relics of the Buddha in the stupa within the seven-layer reliquary. It is at Wat Mahatat that the famous Buddha head is found, entwined in the roots of a fig tree. Nearby, Wat Ratchaburana dates back to the 15th Century and was created under King Borom Rachathirat II (1424 - 48), the seventh king of Ayutthaya. It commemorates the tragic bloodshed between his two brothers, who raced for the throne following the death of their father. The design of the prang recalls the earlier Khmer prasat. In 1957, thieves plundered the crypt of the central tower. Fortunately, some of these treasures were recovered and are now displayed in the Chao Sam Phraya National Museum. Situated in the old City Hall, the Chao Sam Phraya National Museum houses numerous bronze treasures, sacred images and relics.
Wat Lokayasutharam is home to the great reclining Buddha, called Phra Bhuaddhasaiyart, who lies peacefully facing east with his head upon a lotus. The famous Budddha is 37 metres long and 8 metres high, surrounded by a secret garden of ruins. Another beautiful image of the Lord Buddha is found at Phra Mongkon Bophit, dating back to 1538. The statue historically presided over royal cremations and was later struck by lightning. At last, with the Her Majesty the Queen's benevolence, it was covered in gold leaf, as it is found today. The Ancient Palace was once a magnificently opulent compound full of architectural and artistic refinement and treasures. Tragically, all that remains are a few ruins.
Nearby, is the Ayutthaya Elephant Palace and Royal Camp, home to 90 elephants. A visit here is auspicious too - these dignified and rather nimble beasts are the symbol of Thailand!
Rate This Place:
( votes)