Pulling into the small pier at a charming 'khlong' village, we eagerly strolled down to meet our waiting bikes. Our starting point was right by the first and perhaps most historically significant of the temples we came across, Wat Ampawan Chetiyaram. Built by Queen Amarintharamat at the start of the Chakri Dynasty, we were told that this is the birthplace of Rama II, but there was no time to hang around. After brief introductions to our two-wheeled friends for the day, helmet fittings and seating adjustments it was time to get peddling.
This began with a thrilling journey along the local village's main thoroughfare - an elevated canal path with quaint shophouses on one side and a sheer drop into the water on the other. This potentially perilous but exhilarating initiation to our vehicles and environment saw us dodging sleeping dogs (we were very careful to let them lie), nodding at friendly locals, veering around sharp bends and through tight alleyways. Thankfully at our next brief pit-stop - another ferry pier - everyone arrived safe and sound, a broad smile spread across each of our by now flushed faces.
Interested in this tour? Book it here.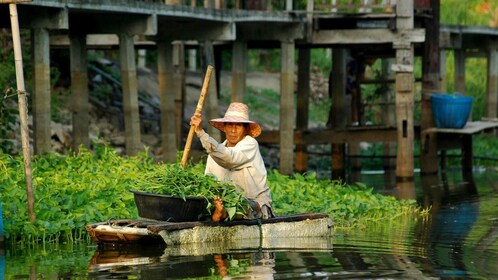 per traveler
Free cancellation
Book
Sights and sounds of country life
Once across the water, we free-wheeled into the grounds of Wat Bang Khae Noi, a finely crafted temple famed for its elaborate murals carved intricately in teak. Inside, Nee explained how each one relates to the story of Buddha. Sometime later we arrived at Barn Kung, an old 17th century army garrison where Thai soldiers resisted the invading Burmese during the short reign of King Taksin. As if this wasn't enough, it's also home to Wat Barn Kung, a potent temple that has been successfully overrun by a Banyan tree. Its limbs have literally swallowed up the original structure, giving the raised Buddha shrine inside an added aura of sacredness.
Our cultural appetites well sated, it was on to some serious cycling. Proceeding at a brisk but - with the roads consistently flat and smooth - leisurely pace we wheeled our way into evocative, picturesque fruit plantations populated by coconut, pomelo, banana and mango trees. The towering foliage gave us natural shade from the sun's persistent glare, and the lack of any discernable traffic the chance to chat side-by-side while reveling in the lush, fertile surroundings.
Before we knew it, we had covered what must have been 20 km and were stopping for lunch overlooking the Mae Klong River. All ravenous we dived into a range of dishes that included curried snakeshead fish, fried chicken and coconut salad, followed by chunks of fresh fruit. The combination of the cooling breeze, lazy pace of river life and our satisfied stomachs made me momentarily eager to seek out the nearest hammock, but I'm glad we persisted. Our journey resumed with a push even deeper into idyllic countryside and surrounding fruit orchids, and my thoughts took on a contemplative edge as I - an ardent city dweller - got drawn into the simplicity of the natural world around me.
The Church of the Holy Virgin Mary, where waving school children played noisily outside the 110-year old gothic structure, was the scene of our final stop. Here the magnificent ceiling frescos and hymn books written in Thai, evoked the richness of the area's near-history in addition to its ancient. Nee told us that around 10,000 Catholics live in this province alone - an interesting fact in a country where Buddhism prevails.
All too soon we came full circle, emerging back out at the floating market. Slightly disappointed to be back in tourist-ville, calves a little stiff, buttocks slightly sore, it was clear nonetheless that the trip had captivated us all. Everyone seemed pleased we'd had a glimpse into day-to-day life here and learned more about its rich past than your average two-legged tourist. On top of that we'd also burnt off a few calories and been charmed by the service - greeting us at every pit-stop had been cold drinks, fresh fruit and the friendly, effortless know-how of our Spice Roads guides. On the way back to Bangkok everyone was shattered, too tired even to speak. However, I'm certain we were all thinking the same thing: "where shall we peddle next?"
Rate This Place:
( votes)