Do not imagine beautiful frozen sets of wings under display cases with Latin names pinned underneath. Here, you enter the huge and lofty enclosure with rockeries, shady ferns, wild flowers and a cooling waterfall - the insects' natural habitat. Unfortunately only few species of beautiful winged creatures hide out within the dome so if you are really quiet and still, you may be able to lure one out of hiding and take a photograph.
Interested in this tour? Book it here.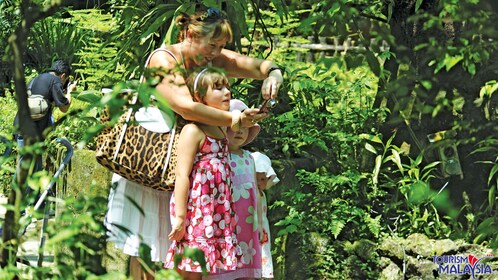 per adult
Free cancellation
Book
Good news for those who grow weary of the slow-moving crowds and rambunctious goings-on of the nearby Chatuchak Weekend Market... Just round the corner from the market, no less than three parks can be found. Upon entering Chatuchack Park subway station, cross Chatuchack Park and turn right, pass the front of the market and turn left at Kampaengphet IV Road. In between Queen Sirikit Gardens and Rotfai Gardens lies the quiet enclosed sanctuary of the Bangkok Butterfly Garden and Insectarium.
Queen Sirikit Gardens, which lies between here and the Children's Discovery Museum, is a magnificent botanical garden with brightly coloured flower beds and old shady trees, all labeled in English, Thai and Latin. Meadows of wild flowers and immaculate landscape gardens with canopied benches, ponds and mazes all lend it a feeling of Alice in Wonderland. This can be an enchanting day of butterfly spotting, picnicking or bicycling through the expansive and picturesque gardens. Old fashioned bicycles can be rented for around 30 baht. You could literally get lost in here, so be sure to bring a bottle of drinking water and a hat.
It is across these lands one must traverse to reach the realm of butterflies. Some of the pretties include the Golden Birdwing, Siam Tree Nymph and the Giant Silkworm Butterfly. An informative indoor display follows the fascinating lifecycles of these colourful insects.
Bangkok Butterfly Garden
Opening Hours: 8:30 - 16:30 (Closed on Mondays)
Location: Rot Fai Gardens (near Chatuchak Market)
MRT: Chatuchak Park Subway
BTS: BTS Mochit
Tel: +66 (0)2 272 4359
Price Range: Free!
Rate This Place:
( votes)